About Us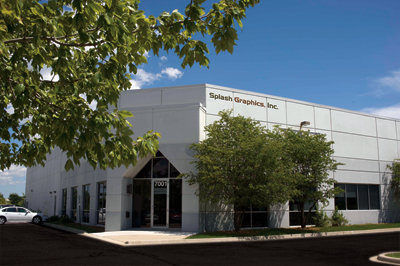 We believe we have something special here at Splash. We have a fantastic, nimble, and highly competent organization. It is easy to talk about ourselves as we believe we are unique in our environment. We are in a market space that is populated with competitors that have been ravaged with mergers and acquisitions. Today these competitors have morphed into large organizations which as a result of their size may be stogy and expensive. The term "diamond in the rough" was used by one of our clients after finding us. We are confident that you will have a positive experience with Splash Graphics.
Our roots go back to 1992. We were known as Blooming Color back then. We really made a name for ourselves as one of the first premedia/prepress company to offer "Computer-to-Plate" services to the offset printing market. This new technology coupled with the knowledge to take a customer's design and prepare it for the limitation of the printing process put Blooming Color on the map. In 1997, the business grew to a healthy commercial print operation with multi presses and extensive finishing operations along with our premedia services. Then in 2006, Blooming Color divested its print and bindery operation and re-established itself as Splash Graphics, Inc., Splash returned to its primary focus of premedia/prepress services. Today our present avatar Splash Graphics, Inc. is a rich, dynamic business that brings color to your world. The principal's of both businesses have been the same Valji Patel, Bhavesh Vanani, and Dhiren Sanghani.
Splash provides marketing support services that include content creation, photography, brand and color management, creative design, consumer packaging, IT services, Digital Asset Management (DAM) services, premedia services, flexographic and lithographic plates as well as customized solutions for specific marketing/workflow needs. Therefore, a company can interact with Splash for specific parts of a project or utilize our complete premedia solutions.
Our customers will attest to the fact that we believe in the timeless traditions of hard work, honesty and perseverance.
Valji Patel is the mild mannered, soft spoken business man who has a knack for understanding the market place and positioning Splash for the long term in a manner which brings solutions to our clients that are both timely and efficient. His mechanical engineering degree has proven to be a great asset and complements his natural logical way of thinking. Valji is an avid gardener, enjoys nature, loves the rain and has the patience of a farmer. He is actually a son of a farmer and he himself did farm for a few years in his early 20's. A cotton farmer to boot! They say he grew his own clothes, amazing guy!
Bhavesh Vanani on the other hand has absolutely no patience, (that's probably because God didn't have any left after he made Valji). If you walk by Bhavesh's office you can usually hear him muttering to his computer to hurry up! We don't think Bhavesh has ever farmed. He is the kind of guy that if he ever did plant a seed it would kill him, he couldn't wait three months to reap the harvest. This personality has served our customers well over the years. As head of premedia production Bhavesh's innate personality is a perfect fit for the quick deadlines and time sensitive nature of our client's businesses. We get it! In this day and age everything happens fast and Bhavesh is the right man for the job. He sets the pace in our production team and as a result everyone here knows that time is of the essence. Bhavesh chased his Graphics arts education with a zeal that only comes with a real love for the field!
Dhiren Sanghani another engineer in the group is focused on marketing and sales. Now you can only imagine what it must be like to work in between Mr. Patience and Mr. Impatience above. Dhiren has recently been showing signs of a split personality, but don't worry we are monitoring him closely. He claims that Valji is toooo slow and Bhavesh is toooo fast and he is just right! He thinks that is why they nominated him to be the face of the company. We beg to differ! The "Goldilocks" line is cute but we know that everyone else does all the work around here and he takes all the credit.
The Splash team is comprised of a colorful, bright, and driven group of individuals. They bring a host of different backgrounds, experiences and education which are a valuable repository of knowledge that our customers can tap. A business is only as good as the team that stands behind it. We are fortunate to have a great group of people on our team who are conscientious, driven and smart.